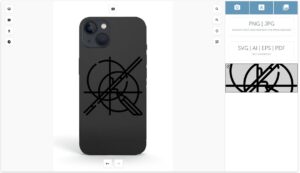 As a company, it is important to promote your branding and brand identity. A great way to achieve this is through the use of corporate cell phone cases. Not only do these cases protect the smartphones of your employees and customers, but they also serve as a mobile advertising platform. By designing
custom corporate phone cases
with their own logo and design, companies can increase their exposure and raise awareness of their brand.
Why should a company have branded cell phone cases?
Using corporate cell phone cases is a smart investment for any business. Here are some reasons why companies should offer their employees and customers the opportunity to design custom cell phone cases:
Brand promotion: as mentioned earlier, using corporate cell phone cases is a great way to promote your branding. By encouraging your employees and customers to create custom phone cases with your logo and design, you can ensure that your brand is always present.
Protecting smartphones: smartphones are expensive devices and repairing them can be very costly. A cell phone case protects the device from scratches, bumps and other damages. By offering your employees and customers the opportunity to design a custom phone case, you can ensure that their smartphones are protected.
Employee retention: By offering your employees the opportunity to design their own company phone cases, you can encourage employee engagement. This gives your employees a sense of belonging and fosters a sense of community within the company.
What are the advantages of customizing corporate phone cases?
There are many advantages to
customizing corporate phone cases
. With a wide range of designs, materials, and printing techniques, you can customize your phone cases to perfectly fit your needs and requirements. You can ensure that the design is perfect for your company and that the quality of the cases meets your requirements. Ordered in bulk, our Brand.it cell phone cases are also significantly cheaper than generic retail cases.
How to design corporate phone cases?
Designing corporate phone cases is simple and straightforward. For many of our cases, we offer an online design tool to make designing as easy as possible. You can open the design tool on the respective product page via the button "Preview with your own logo for …". Here you can import your graphic file, drag and drop it, and align it according to your wishes. Ideally, your logo should be available as a vector file. Our case configurator supports vector files in the formats .eps, .ai, .pdf, and . svg. Raster files in the formats .jpg and .png are also supported, but cannot be edited. Only the size and position on the phone cover can be changed in the configurator. On the other hand, if your design is in a vector format, you can also change the colors of each individual element (path). This is useful, for example, to improve the contrast with the color of the protective cover. For all sleeves, there are also pre-made print files, into which you or your graphic design professional can easily insert your logo. The files are in .ai format, and can be found on the respective product pages in the "Note on Personalization" section. Adobe Illustrator software is required. You can either design corporate phone cases yourself or hire a professional designer. Here are some things to keep in mind when designing your own phone cases:
Use your company logo: Your company logo should be the central design element on the cell phone case. It should be clearly visible and have a high recognition value.
Use corporate colors: Use your company colors to make your phone cases uniform and consistent with your brand image.
Use creative designs: being creative with your phone cases can help them stand out and attract attention. For example, you can use quotes, graphics, or other visual elements that relate to your brand.
Creating your own corporate phone cases – an investment that pays off
Personalizing cell phone cases is an investment that is definitely worth it. Personalized cell phone cases are not only functional, but also an advertising and marketing tool that helps companies strengthen their brand image and be remembered. By paying attention to the quality and durability of their phone cases and standing out from the competition, companies can strengthen their brand image in the long run and gain a competitive edge.