General
| | |
| --- | --- |
| Article no: | 7200 |
| EAN-Code: | 0 |
| Material: | EVA foam (ethylene vinyl acetate) |
Packaging
| | |
| --- | --- |
| Packaging: | Bulk or single carton box |
| Article dimensions without packaging: | N/A |
| Article weight without packaging: | 293 g |
| Article weight with packaging: | g |
| Shipping box dimensions: | × mm |
| Packaging Unit: | 40 |
| Carton weight: | kg |
Customisation
| | |
| --- | --- |
| Printing technology: | Tampoprint 1C |
| MOQ cases without logo: | 25 |
| MOQ cases with custom logo: | 100 |
| MOQ special Pantone colour: | 2000 |
Sourcing
| | |
| --- | --- |
| Customs tariff number: | 39269097900 |
| Country of origin: | China |
The perfect iPad case for kids and schools
As education incorporates more and more digital elements, iPads and tablets find their way into our children's classrooms. While equipping children with technological skills and help providing interactive learning experiences, these devices don't come cheap. Any school or daycare providing them have made a significant investment that's that should be protected against damage.
Besides raising awareness among students to treat their iPads with care and caution, we consider our highly reliable iPad protective case Learn.it an obvious choice. Its soft yet durable EVA foam protects both iPads and children when handling the tablets.
Customization such as a school branding is possible for orders of 100 pieces or more. Bulk discounts are available from 50 pieces per order – please refer to the price table beneath the photo gallery.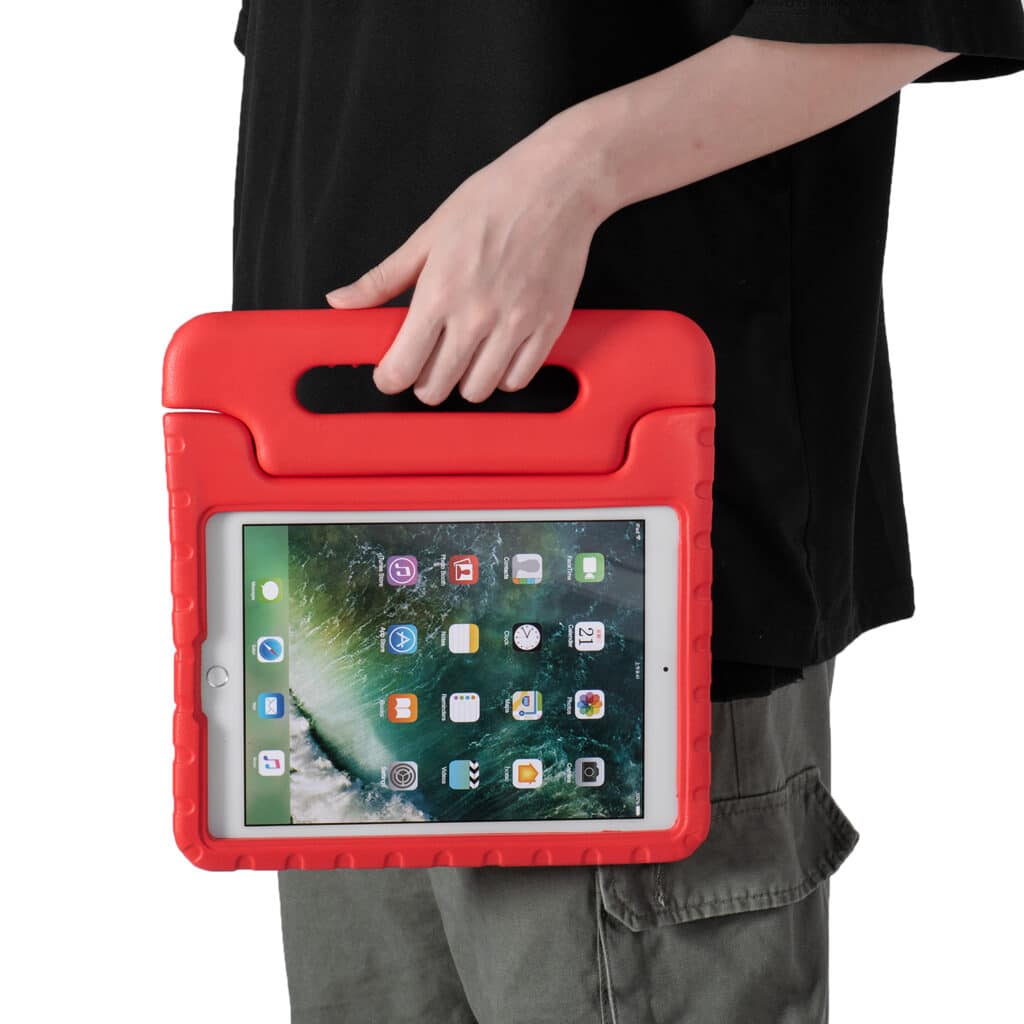 The Learn.it iPad Cases for schools are made considering the needs of young children. Kids can be hard on the devices and vice versa. In addition to the risk of damage, there is also a possibility of a child getting shocked or injured in a different way due to improper use. The Learn.it case safely covers the iPad's power socket and absorbs shocks to keep children from getting hurt.
Further, the cases are equipped with integrated folding stands to place the tablets upright, or on a flat angle for easier use.

This product has been examined for harmful substances by Labtech GmbH and was found to be free from harmful substances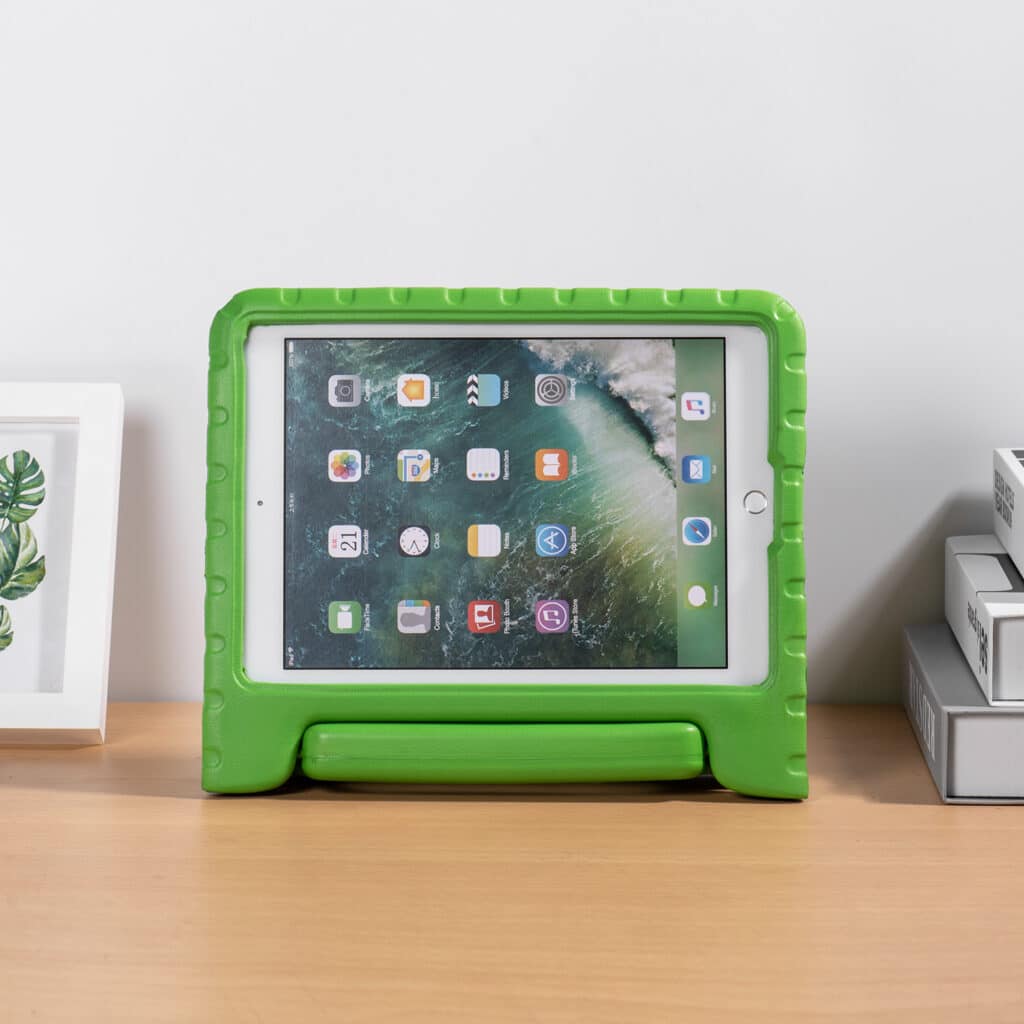 high quality non-toxic EVA
100% shockproof case for all common Apple iPad models
shockproof handle, well sized for kids' hands
perfect, stable fit for iPads
slots for charger, connectors and cut-outs for camera use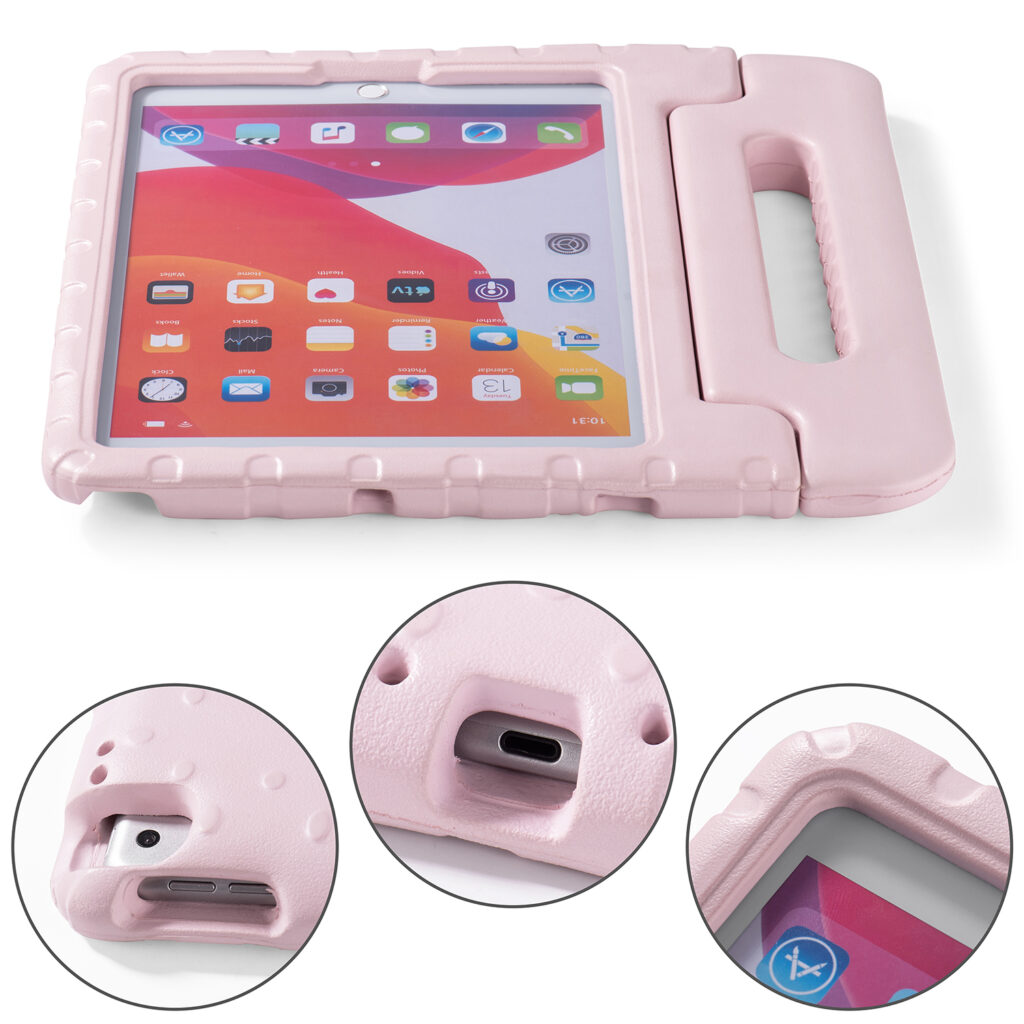 Our Learn.it iPad cases for schools are available for the following iPad models:
iPad 10.2 (7/8/9 Generation 2019/2020/2021), iPad 10.9 (10 Generation 2022), iPad 9.7 (5/6 Generation 2017/2018), iPad mini 4/5 7.10, iPad mini 4/5 7.11, iPad mini 4/5 7.12, iPad mini 4/5 7.13, iPad mini 4/5 7.9
Don't see your iPad model? Please get in touch and we will get back to you quickly to confirm whether we can supply your school.
These iPad cases for schools can be screen printed with your logo 2C (two colors) from 100 pieces.

Printing Data: Please send your logo as a vector based .eps file and tell us your Pantone™ company color so we can match the printing color accordingly.
Worldwide shipping
At Brand.it we have most items in large quantities in stock. Our inventory and a digitalized supply chain enable us to provide short delivery times of 8 to 15 workdays worldwide only. Our headquarter is based in Germany. Our factory is in China which enables a fast and worldwide delivery by airfreight in several days only.

If you have a hard deadline, please inform us and we'll check if we are able to deliver accordingly.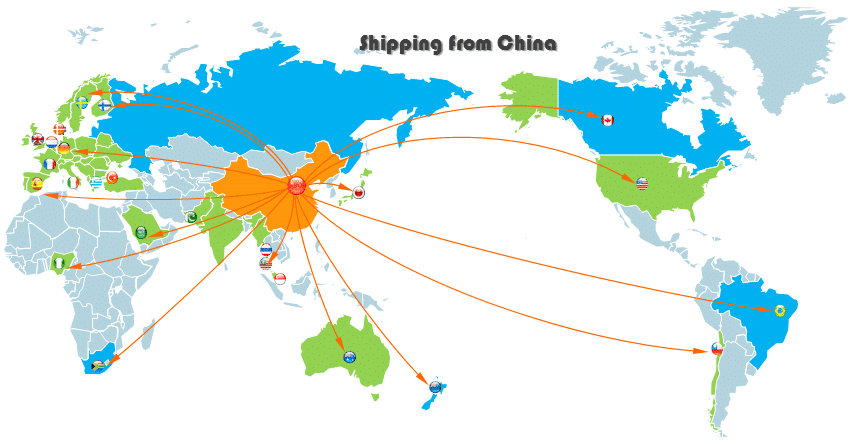 In digital UV printing, we can only print on the flat surface. Please have a look at our references of fully printed cases.
By default all our cases are unprinted. The Brand.it logo is discreetly placed inside the case so that the entire print area is available for your logo.
This cover is compatible with Brand.it screen protectors.
The print is very durable and cannot be scratched off even by hard objects such as a fingernail or coin. We guarantee the adhesion for 24 months under normal use.
Yes, you can. The minimum quantity per model is half of the minimum quantities indicated on a product page. Example: If the minimum quantity is 50 pieces, then you can order 25 pieces per model.