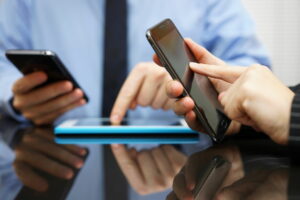 To make mobile devices productive in companies, they have to face a major challenge: How do I administer the countless different smartphones and tablets and ensure security? We give tips on which software is best suited for mobile device management.
The importance of mobile device management today
For many people, life without a smartphone is only barely conceivable. The practical device has become a universal helper in numerous situations in life. This brings with it significant profit opportunities for companies as well: employees can be reached on the move, communication is instantaneous, and the smartphone can be used in a variety of ways. communication is instantaneous, waiting times are eliminated. Furthermore, these devices make it possible to access important data that is only available in the company from anywhere. Employees can be productive even when they are on a bus, train or plane. The current state of the world is causing this phenomenon to accelerate dramatically, as remote working has now become a compulsion for many companies and employees. At the same time, however, a major problem arises: How do I, as a decision-maker in a company, ensure that all activities – such as access to the company's network – are secure? Good MDM software sets the course for this.
Threatening situation without mobile device management
Several issues cause problems when employees in a company use mobile devices for private (or purely professional) purposes:
It is not ensured that these devices are free of malware. This could infiltrate the company's intranet when a network connection is established.
It is not certain how employees manage data on their devices and whether this complies with company policies.
Employees are using versions of operating systems or programs on their devices that may not comply with company policy.
If the devices are lost, there is a high risk of a potentially serious data leak without sufficient backup. Third parties could steal important data.
Thus, not having sophisticated mobile device management solutions carries significant risks. This can be compared to
protective sleeves and cases for devices
: They serve to protect a smartphone from external damage and thus prevent data loss or hardware defects. Likewise, good mobile device management solutions protect against damage – only on a different level. But how does a company recognize reliable MDM software?
Hints for appealing solutions
First, we turn to an overview of the technical features that mature mobile device management solutions should bring to the table. Among other things, IT managers should be able to determine the location of the device (e.g. via GPS, WLAN or Bluetooth or a combination of these technologies) and lock it if necessary. The complete deletion of all data on the device should also be on board in good mobile device management solutions. In addition, administrators should be able to reset passwords or disable individual device functions (such as the camera). deactivate individual device functions (such as the camera). The MDM software should be able to check the configuration of the device and lock smartphones with jailbreak (iOS) or root access (Android). These could otherwise bring considerable security risks. It is also important to assign roles and restrictions. For example, a certain user group could be managed in such a way that Bluetooth and WLAN are deactivated outside the company network or that remote login is only allowed via VPN connections. It should be borne in mind that not every function is necessary in every company. Here it is important to check one's own needs and look for appropriate solutions. It is also true that every restriction goes hand in hand with an increased effort for the employees, if circumventing a restriction is necessary for any reason.
Core factors of MDM software
Mobile device management solutions differ not only in terms of their technical capabilities. Several overarching aspects want to be considered in the selection process.
Licensing model and compatibility
Solutions on the market often focus on a specific operating system, which makes sense if a company distributes uniform smartphones to employees. Other software, on the other hand, is intended for companies that work according to BYOD (Bring Your Own Device) and allow each employee to have their own devices. In addition, the licensing model plays a role: some software works directly on the servers in the company and thus offers more security. SaaS solutions, which run externally and thus save administrative effort – but charge monthly costs for renting the software – are more convenient.
Prices and flexibility
Pricing policies change depending on the MDM solution. Some companies offer software of this type for a one-off, usually high fixed price. Others charge per user or device that is actively used. Each company should calculate for itself which solution is more suitable. Mobile device management solutions should still be very freely configurable. The more finely groups can be defined, the better. With increased granularity, the possibilities for dividing a company into different groups increase. These then get their corresponding configuration via PINs or QR codes.
Rollout and integration
The MDM software should not bring the entire company to a standstill, but should be able to be integrated as seamlessly as possible into what has gone before. A central configuration that is subsequently rolled out to all devices in question should suffice. New devices that have never been in contact with the network before should be able to be integrated into the company with just a few clicks – just as old devices can be quickly removed. If a bureaucratic tour de force threatens when a new employee starts in the company, it is probably the wrong software solution.
The disadvantage of mobile device management solutions…
… Is the initial, usually high, administrative overhead. Once everything is in place, the administration effort is minimal with good software. However, depending on the degree of digitalization in the company, this may be a long way off. At the beginning, it takes a lot of time and effort to develop a structure that is adapted to the company and functions smoothly. At the same time, however, it is true that dealing with this topic at an early stage is always positive. The smaller a company, the easier it is to implement the integration of mobile device management. Every minute sacrificed now may save an hour in the future in a growing company. Those who deal with suitable mobile device management solutions at an early stage are thus guaranteed to back the right horse.