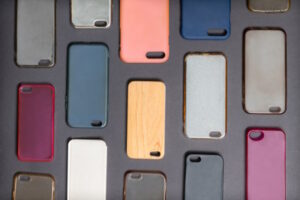 Picture this: your sleek, shiny smartphone, a device you rely on every day, slipping from your grasp and crashing to the ground. We've all been there, and it's not a pleasant experience. That's where phone cases come in, providing much-needed protection and a touch of personal flair to our beloved devices. With a myriad of types of phone cases available on the market, choosing the perfect one can be overwhelming. Fret not! This comprehensive guide is here to help you navigate the diverse world of phone cases, ensuring you find the one that suits your needs to a T. Let's dive in and explore the fantastic options waiting to safeguard and style your smartphone!
Silicone Cases: Embrace Flexibility and Simplicity
Unveiling the world of silicone cases – these soft, flexible, and lightweight protectors are a popular choice among smartphone users, and for good reason. Crafted from high-quality silicone material, these cases offer a smooth, rubbery texture that not only feels great in your hand but also provides a secure grip to prevent accidental slips and falls.
Pros:
Non-slip grip for confident handling
Shock-absorbing properties to protect against impact
Easy to put on and remove from your device
Available in a wide array of colors and designs
Cons:
May attract lint and dust due to the rubbery texture
Offers limited protection compared to more robust case options
Can stretch or wear out over time, reducing its effectiveness
Ideal Users and Situations:
Silicone cases are perfect for those who crave simplicity, value an anti-slip grip, and prefer a minimalist design. These cases are suitable for everyday use, providing basic protection against minor drops and impacts. If you're seeking an affordable, functional, and stylish option that offers a comfortable grip and safeguards your phone from everyday hazards, look no further than the versatile silicone case.
Hard Plastic Cases: The Sturdy, Stylish Armor for Your Smartphone
Enter the realm of hard plastic cases – these robust, durable defenders are crafted from polycarbonate or similar materials, providing a solid layer of protection to your precious device. With a vast range of styles, colors, and patterns available, hard plastic cases are the go-to choice for those who desire a fusion of strength and flair.
Pros:
Offers enhanced protection against scratches, dents, and impacts
Slim profile maintains the sleek look of your device
Wide variety of designs to suit every taste and preference
Easy to clean and maintain
Cons:
Can be slippery, increasing the risk of accidental drops
May not provide adequate shock absorption in case of severe falls
Can be challenging to remove and install on your device
Ideal Users and Situations:
Hard plastic cases are the ideal pick for users who prioritize style, durability, and scratch resistance. If you're searching for a reliable phone case that delivers an extra layer of protection without compromising on aesthetics, a hard plastic case is the perfect candidate. This option is especially suitable for those who work in office environments or use their phones in relatively low-risk situations where the chance of severe impact is minimal. Indulge in the world of hard plastic cases and arm your smartphone with a sleek, stylish, and secure barrier.
Leather Cases: Elegance Meets Functionality
Step into the luxurious world of leather cases, where sophistication and practicality unite to provide your smartphone with a touch of class. Crafted from genuine leather or PU (polyurethane) leather, these cases offer a premium look and feel that adds an air of refinement to your device. Whether you choose traditional leather or its animal-friendly counterpart, PU leather, you're in for a treat.
Pros:
High-quality, durable material that ages gracefully
Offers a refined, professional appearance
Provides moderate protection against scratches and minor impacts
Often includes built-in wallet features for added convenience
Available in various styles, such as folio or wallet cases
Cons:
Can be relatively more expensive than other case options
May not offer optimal protection against severe drops
Genuine leather requires proper maintenance to retain its beauty
PU leather may not have the same luxurious feel as genuine leather
Ideal Users and Situations:
Leather cases are the perfect choice for those who value a sophisticated, timeless design and desire moderate protection for their device. Ideal for professionals, executives, or anyone looking to elevate their smartphone's aesthetic, these cases add a touch of luxury to your daily life. Whether you're attending a business meeting, a formal event, or simply appreciate the finer things in life, leather cases blend elegance and functionality to deliver an unparalleled smartphone experience.
Rugged Cases: Embrace the Power of Extreme Protection
Venture into the realm of rugged cases, where ultimate protection and durability reign supreme. Designed to withstand harsh conditions and extreme impacts, these heavy-duty cases are built with reinforced corners, multiple layers of materials, and often include built-in screen protectors. Rugged cases are the ultimate shield for your smartphone, ready to face the toughest challenges.
Pros:
Provides exceptional protection against severe drops, impacts, and scratches
Often features dust, water, and shock resistance
Built-in screen protectors for all-around device security
Enhanced grip for secure handling
Cons:
Adds bulk and weight to your device
May not be as aesthetically pleasing as other case options
Can be challenging to install and remove
May not fit all accessories or docks due to size
Ideal Users and Situations:
Rugged cases are the go-to option for users who require maximum protection for their smartphones. If your daily routine involves high-impact activities, outdoor adventures, or a demanding work environment, a rugged case is your perfect companion. Professions like construction, law enforcement, and extreme sports enthusiasts will appreciate the peace of mind provided by these ultra-protective cases. With a rugged case, you can fearlessly embrace your active lifestyle while ensuring your smartphone remains safe and secure.
Wallet Cases: Convenience and Style in One Sleek Package
Discover the world of wallet cases, where practicality and fashion coexist in perfect harmony. These versatile cases offer more than just protection for your smartphone; they feature built-in slots and compartments for your cards, cash, and ID. With wallet cases, you can consolidate your essentials, making it easier than ever to stay organized on the go.
Pros:
Combines phone protection with wallet functionality
Streamlines your carry by holding cards, cash, and ID
Offers moderate protection against scratches and minor impacts
Available in various materials, such as leather, fabric, and synthetic options
Magnetic or snap closures provide added security
Cons:
Can be bulkier than other case types
May not provide the highest level of protection against severe drops
Cards and cash stored in the case may interfere with wireless charging
Ideal Users and Situations:
Wallet cases are an excellent choice for those who value organization, convenience, and style. If you're tired of carrying a separate wallet and phone, a wallet case is the perfect solution to streamline your daily essentials. This option is particularly suitable for users who want a functional yet fashionable case that can transition seamlessly from a workday to a night out. Embrace the convenience of wallet cases and simplify your life with this all-in-one solution.
Clear Cases: Showcase Your Smartphone's True Beauty
Welcome to the realm of clear cases, where the natural elegance of your smartphone takes center stage. These transparent protectors allow you to flaunt your device's original design while still providing a layer of protection against scratches and minor impacts. Made from materials like TPU or hard plastic, clear cases are the ultimate choice for those who prefer an unobtrusive, minimalist approach to phone protection.
Pros:
Preserves and showcases your smartphone's original design
Offers moderate protection against scratches and minor drops
Slim profile maintains the sleek look of your device
Works well with a variety of phone colors and styles
Cons:
May yellow or discolor over time, especially with TPU cases
Provides limited protection compared to more robust case options
Can be slippery, increasing the risk of accidental drops
Fingerprints and smudges may be more visible on clear cases
Ideal Users and Situations:
Clear cases are perfect for users who appreciate the beauty of their smartphone's design and want to keep it visible while still providing some protection. If you're someone who values a minimalist aesthetic and dislikes bulky or overly stylized cases, clear cases are your ideal match. Suitable for everyday use in low-risk environments, these cases offer a perfect balance between showcasing your phone's natural beauty and safeguarding it from daily wear and tear. Embrace the charm of clear cases and let your smartphone shine!
Lanyard Cases: Keep Your Smartphone Close and Accessible
Enter the world of lanyard cases, where convenience and accessibility take precedence. These unique cases are designed with built-in attachment points or loops for lanyards, allowing you to wear your smartphone around your neck, wrist, or even clipped to a bag. With a lanyard case, your device remains within reach at all times, making it perfect for those who are always on the move.
Pros:
Provides easy access to your smartphone at all times
Reduces the risk of accidental drops or misplacing your device
Offers moderate protection against scratches and minor impacts
Allows for hands-free carrying during outdoor activities or busy events
Cons:
May not provide the highest level of protection against severe drops
Not as widely available as other case types
Can be cumbersome or uncomfortable for some users
May not suit all fashion preferences or personal styles
Ideal Users and Situations:
Lanyard cases are an excellent option for users who prioritize accessibility and hands-free convenience. Whether you're attending a festival, traveling, or engaging in outdoor activities, a lanyard case ensures your smartphone stays close and secure. This case type is particularly suitable for individuals who frequently use their phones for photography or navigation, as it keeps the device within easy reach while freeing up your hands for other tasks. Embrace the practicality of lanyard cases and enjoy the freedom of having your smartphone always at your fingertips.
Eco-Friendly Cases: Embrace Sustainability Without Compromising Style
Immerse yourself in the world of eco-friendly cases, where protecting your smartphone goes hand in hand with preserving our environment. These sustainable cases are crafted from environmentally conscious materials such as biodegradable plastics, recycled materials, or even plant-based alternatives. By choosing an eco-friendly case, you can make a positive impact on the planet while keeping your device safe and stylish.
Pros:
Supports environmental sustainability and reduces waste
Made from biodegradable, recycled, or plant-based materials
Offers moderate protection against scratches and minor impacts
Showcases your commitment to eco-conscious living
Cons:
May not provide the highest level of protection against severe drops
Limited availability compared to other case types
Can be more expensive than conventional cases
Durability may vary depending on the materials used
Ideal Users and Situations:
Eco-friendly cases are the perfect choice for individuals who prioritize environmental responsibility and wish to make a difference with their purchasing decisions. If you're passionate about reducing your carbon footprint and seeking a stylish, eco-conscious way to protect your smartphone, an eco-friendly case is the ideal match. These cases are suitable for everyday use, allowing you to express your commitment to a sustainable lifestyle while keeping your device safe from harm. Embrace the power of eco-friendly cases and make a positive impact on our planet, one phone case at a time.
Summary: Find Your Perfect Phone Case Match
In this comprehensive guide, we've explored the diverse world of phone cases, from the minimalist charm of clear cases to the robust protection of rugged cases. We've delved into the elegance of leather cases, the convenience of wallet cases, and the accessibility of lanyard cases. Each type of case offers its unique blend of style, functionality, and protection, catering to various preferences and lifestyles.
Choosing the right phone case is a crucial decision, as it not only safeguards your valuable device but also reflects your personality and individual needs. The perfect phone case is a harmonious fusion of practicality and self-expression, tailored to your specific requirements.
We encourage you to explore the vast array of options available and invest in a phone case that truly resonates with your preferences and daily life. By selecting the ideal case, you can confidently protect your smartphone while accentuating your unique style. So go ahead, dive into the world of phone cases, and discover the perfect companion for your cherished device!