General
| | |
| --- | --- |
| Article no: | 5060 |
| EAN-Code: | 0 |
| Material: | Thermoplastic polyurethane (TPU), Microfibre |
Packaging
| | |
| --- | --- |
| Packaging: | Bulk or single carton box |
| Article dimensions without packaging: | 74 × 10 cm |
| Article weight without packaging: | 25 g |
| Article weight with packaging: | 43 g |
| Shipping box dimensions: | 300×215×180 mm |
| Packaging Unit: | 50 |
| Carton weight: | 1,55kg |
Customisation
| | |
| --- | --- |
| Printing technology: | UV Digital print 4C + white |
| MOQ cases without logo: | 5 (stocked items)25 (non-stocked items) |
| MOQ cases with custom logo: | 25 |
| MOQ special Pantone colour: | 1000 |
Sourcing
| | |
| --- | --- |
| Customs tariff number: | 39269097900 |
| Country of origin: | China |
Our premium phone case for businesses
The Black Series is our top-selling iPhone case among those looking for the best for themselves and their employees. On the inside, it comes with a soft fiber inlay for that little bit of extra protection for your company devices. On the outside it scores with a high-end matte finish and excellent haptics, resulting in a great look, and a reduced chance of slipping. Personalized with your branding, it's the perfect protection for your corporate iPhones. Our customers constantly tell us how much their employees love it!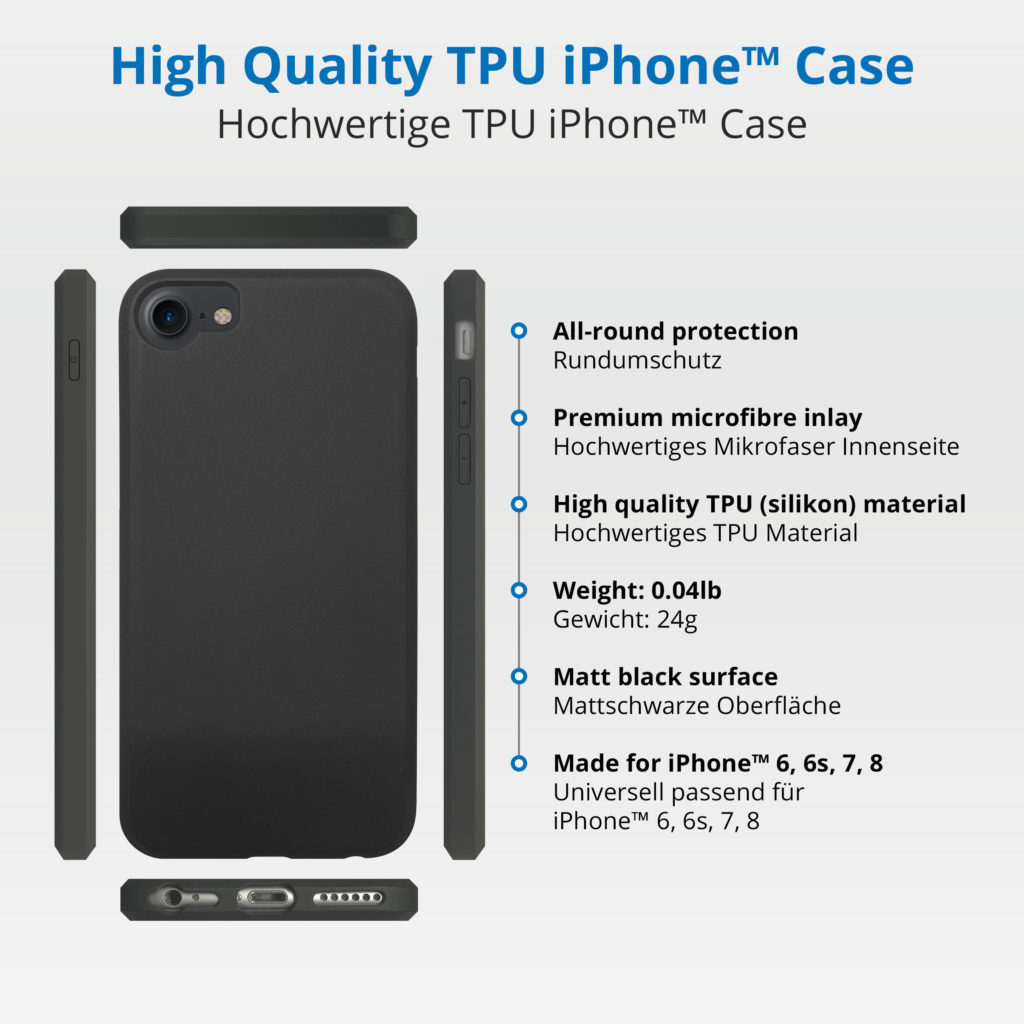 A branded case with your company logo
The material used in producing the Black Series (high quality TPU) is ideal for customizing it with UV printing – all colors of the CMYK palette are available, Pantone™ colors can be matched if your corporate style guide requires. The full surface can be printed on, making stunning brand designs  phone cases possible.
However, please note that print around the edges is not available for this model. If this is a personalization feature that you need, please consider our Infinity Tough and Infinity Hard models.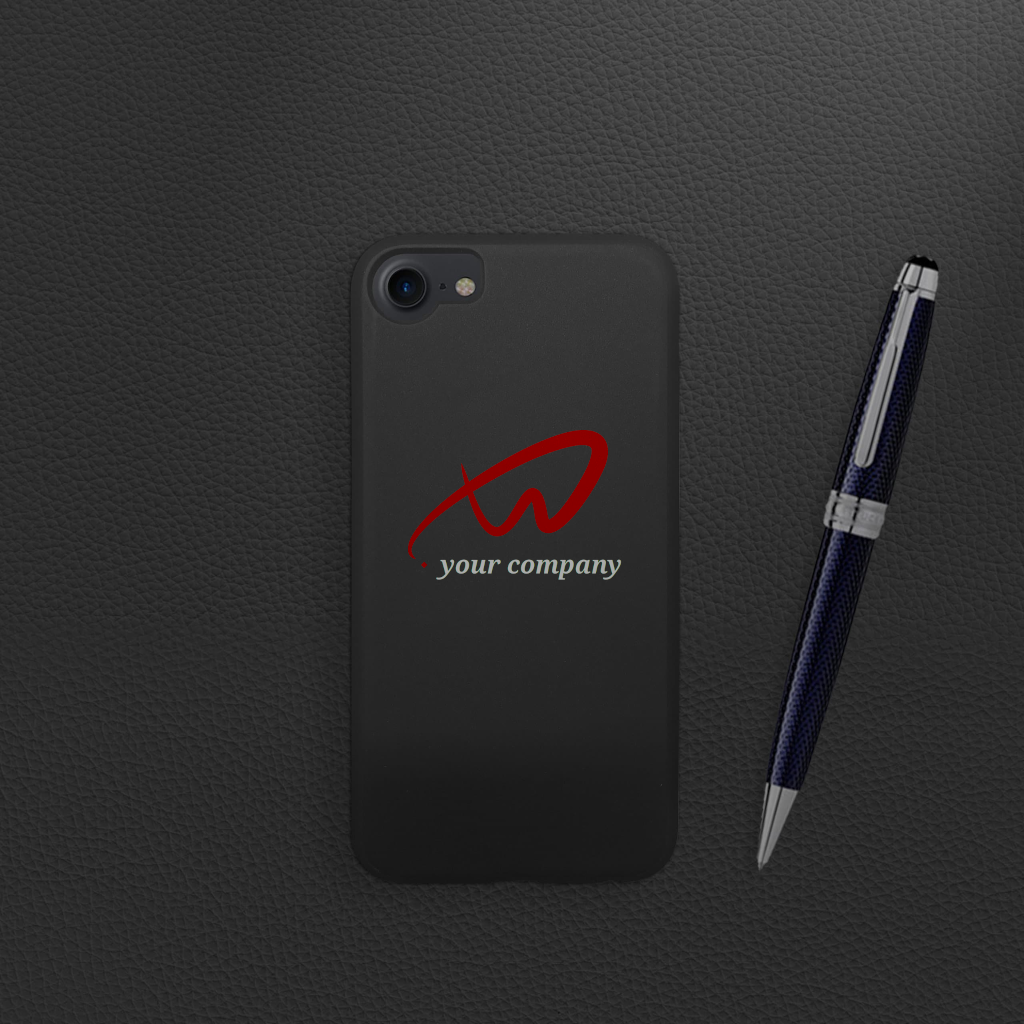 A wireless-charging compatible phone case
The Black Series also works very well with wireless charging for Qi devices, as it is thin enough to not interfere with the charging process. The only thing we want to make you aware of in this context: some car mounts require a thin metal plate to be placed between the case and the phone. This metal plate prevents the wireless charging functionality.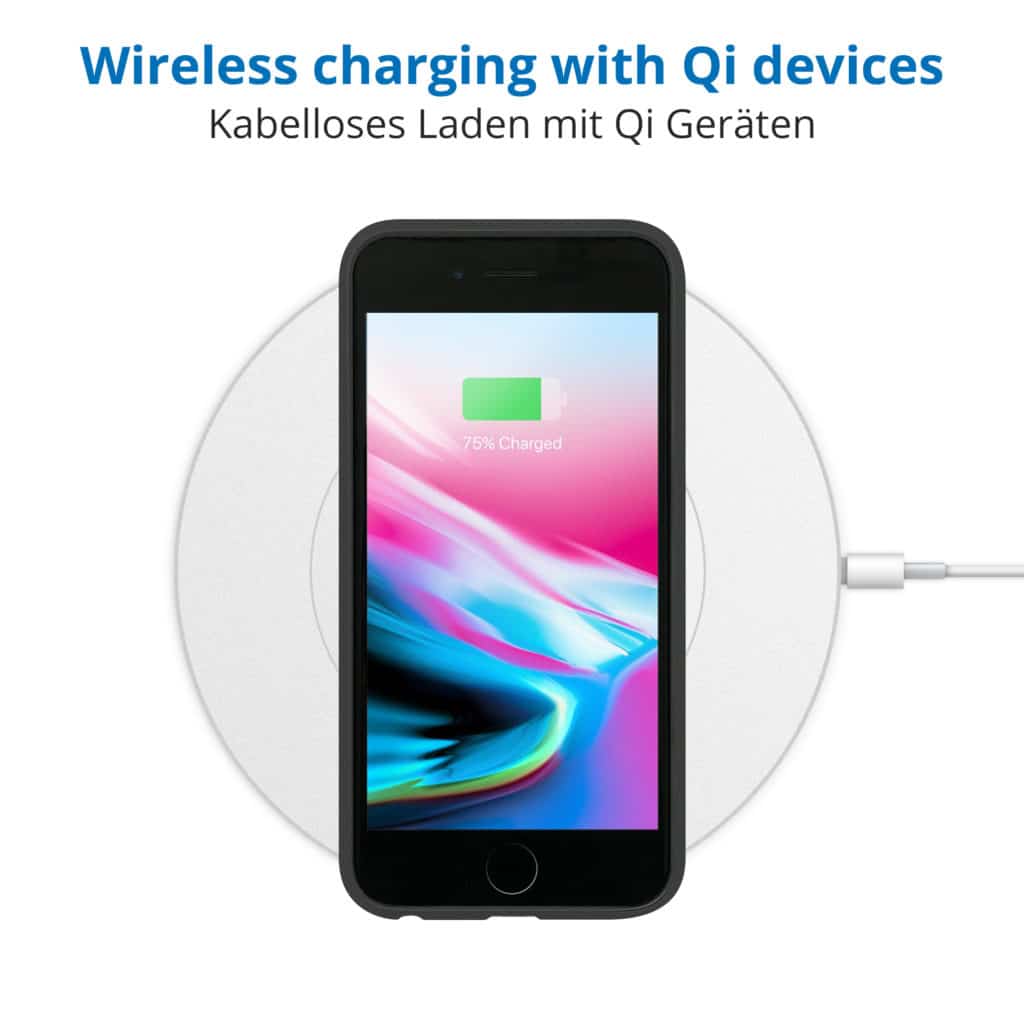 Protecting your iPhone screen by default
Besides protecting the iPhone's body and its delicate internals, its screen is also a peculiar element of concern. Our Black Series phone case already comes with a first element of screen protection, by its body extending 1 millimetre above the screen. Thus, when the phone is placed screen-down on a flat surface like a table, its screen cannot be scratched. If that's not enough, the Black Series is of course also fully compatible with our display protection glasses: 2.5D protective glass for iPhones & 3D protective glass for iPhones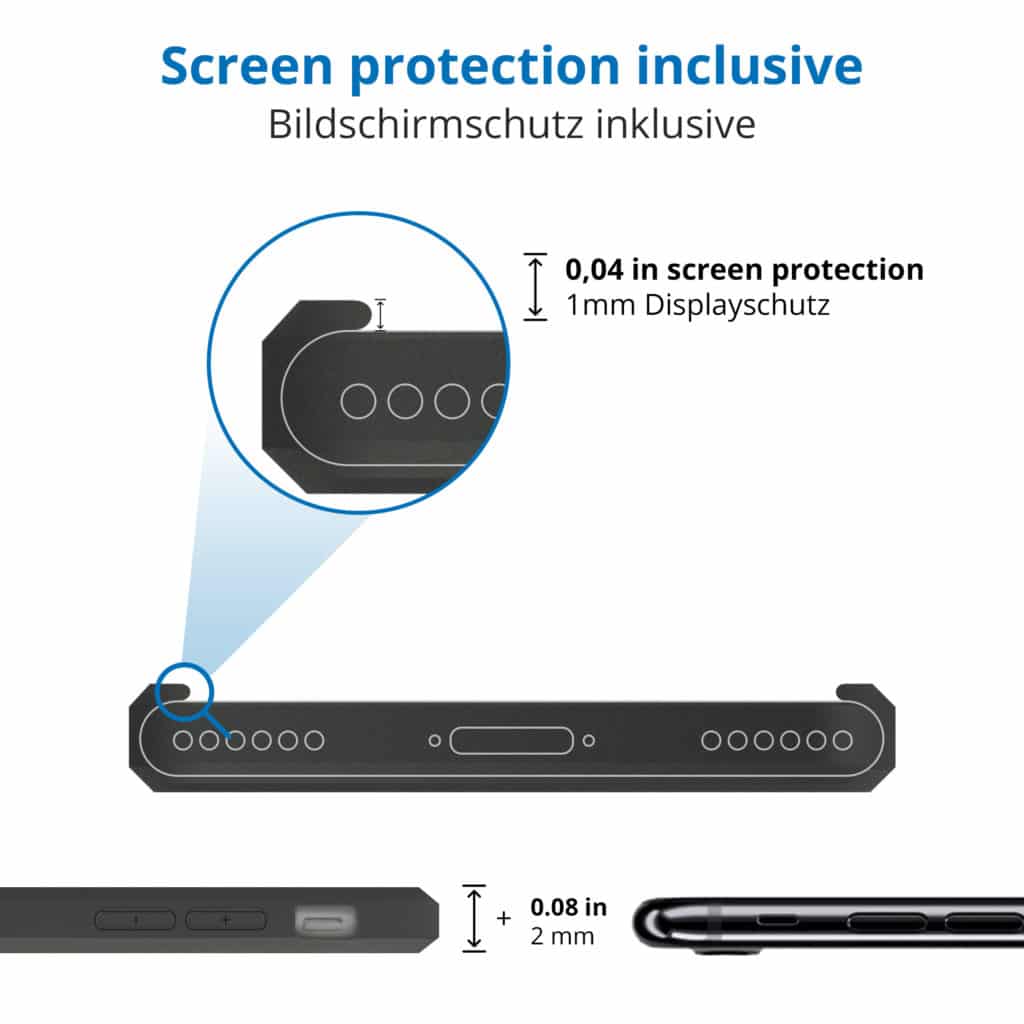 The Black Series is an iPhone-specific protection case
Our Black Series phone cases are readily available for the following phone models:
iPhone 11, iPhone 12/12 pro, iPhone 13, iPhone 14, iPhone SE2/SE3/8/7/6s/6, iPhone Xr
Your phone model is not listed? Reach out to us and we will see how we can help!
Customizing the Black Series iPhone case
This premium iPhone case can be customized by UV printing. We use the latest and well maintained printing machines to provide a pin-sharp result. Your logo or artwork will be printed in CMYK color mode. If your logo is in Pantone™ color, we will match it according to CMYK. We can either print your logo digital in one color (e.g. white), several colours or we can even do an overall printing with any picture or artwork. However, the edges and corners can not be printed. Furthermore we can't print silver, gold, neon or any special colour.
Wanna learn more about UV printing?


Worldwide shipping
At Brand.it we have most items in large quantities in stock. Our inventory and a digitalized supply chain enable us to provide short delivery times of 8 to 15 workdays worldwide only. Our headquarter is based in Germany. Our factory is in China which enables a fast and worldwide delivery by airfreight in several days only.

If you have a hard deadline, please inform us and we'll check if we are able to deliver accordingly.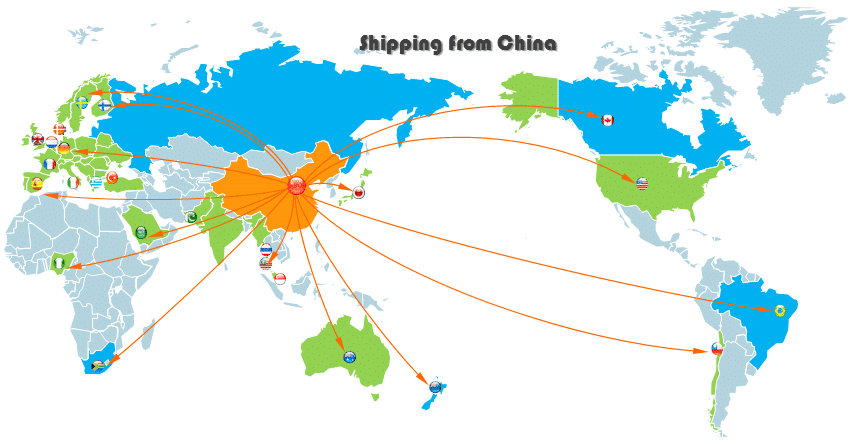 In digital UV printing, we can only print on the flat surface. Please have a look at our references of fully printed cases.
By default all our cases are unprinted. The Brand.it logo is discreetly placed inside the case so that the entire print area is available for your logo.
Yes, the frame is raised by approx. 1mm to protect the display.
Yes, all our cases are compatible with wireless charging if your device supports this technology. Please note that some car mounts require a thin metal plate to be placed between the case and the phone. This metal plate prevents the wireless charging functionality.
This cover is compatible with Brand.it screen protectors.
The print is very durable and cannot be scratched off even by hard objects such as a fingernail or coin. We guarantee the adhesion for 24 months under normal use.
We print digitally in CMYK colour mode and use your Pantone™ colour specification as a reference value.
Yes, you can. The minimum quantity per model is half of the minimum quantities indicated on a product page. Example: If the minimum quantity is 50 pieces, then you can order 25 pieces per model.